Details

Hits: 1781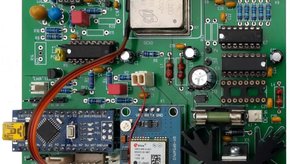 My previous 10 MHz frequency reference having broken down, the question was whether to repair it or move on.
After reflection, I decided to equip myself with a 10 MHz reference disciplined by GPS (GPSDO) in order to obtain the best possible accuracy.
After some research on the Internet, I found ready-made products at affordable prices and some descriptions of amateur achievements.
I chose the option of making the version proposed by DL4ZAO / DL7UKM . On one hand because there is a detailed description (in German) and that the author offered the printed circuit at a correct price, and on the other hand to learn according to the formula " Build and learn ".
The assembly revolves around an Arduino Nano and software is offered by Michael DL7UKM. All the more reason for my choice, now having a good knowledge of this platform.
Details

Hits: 2966
| | |
| --- | --- |
| | During my SOTA activities, I often raged on the fact that the builtin CW keyer in my QRP SW-3B transceiver only had one memory ... It is indeed very practical to have several of them in order to free your hands to do something else such as finishing writing the last QSO on the logbook or making a somewhat specific call. The idea therefore sprouted to produce a CW memory manipulator that would meet the following conditions |
3 on the fly programmable memories
low power consumption
easy battery supplying
reduced size
easily reproducible
Having already built a prototype of the fabulous K3NG keyer, I decided to use this project by adapting it to my needs.
Details

Hits: 4019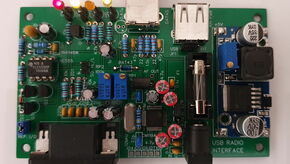 Our corsican repeater network TKNET uses the Asterisk software for the routing and communication between nodes. In order to digitalize the audio signals and interface them with the repeaters, i developped a small interface board some years ago. It was using a cheap USB audio stick that we modified and plugged on my board.
With time, this solution appeared to be not the best choice for different reasons. So, the idea to build a newer board with an onboard USB audio chip was born.
Being retired, i found the time and mood to develop a new interface board using the same chip CM119A which is a small LQFP-48 case.